The workshop panel discussion on Tuesday opened with a presentation on a brief history of Apartheid (which I was extremely grateful for) and the attempts of The Truth and Reconciliation Commission (TRC) to garner accountability for the politics and actions of South African Apartheid in the 50's, 60's, and beyond. After this brief but informative introduction, a panel of white and black South Africans sat on stage to begin a dialogue, but all eyes were fixated on one man (who I hadn't heard of until that day), Adriaan Vlok. Mr. Vlok had been the minister of police in South Africa's apartheid regime during the 1980's and was responsible for the violent and deadly crackdowns against the ANC (African National Congress), South African blacks and coloreds, who opposed the regime. In 2006, Vlok became convicted in his faith to seek forgiveness and reconciliation for the pain he caused. He spoke of his widely politicized gesture of washing the feet of the long imprisoned Rev. Frank Chikane, along with nine mothers who had lost loved ones as a result of the violence. His presence cultivated a clear energy of hesitation, nervousness, and perhaps even disgust. Even as he spoke of his experience, a low murmur of uncomfortable South African giggles could be heard across the crowd.
And just when I thought Vlok's confession of his wrongdoings might provide reconciliation for the oppressed blacks and coloreds of his regime, something amazing and unexpected happened. One of the white, South African panel members confronted Mr. Vlok with his story of fighting in the South African Army (something I found out later was a minimum 2-year requirement for most of the white South African 40-somethings in the audience...whether they agreed with the cause or not). He had served, he said, for two years with orders to fight and eliminate resistance. His time in the army had caused him over 15 years of PTSD, to the point where his counselor had suggested he find a person or entity to blame it all on. That person, he admitted, was Adriaan Vlok. "To this day," he went on to explain, looking directly into Mr. Vlok's eyes, "when I curse in my home, I use your name." That is how much he despised the man in front of him. But, he went on to suggest, "and I think it's time I apologized to you for that."
At this moment, I can't imagine there was a dry-eye in the house. Even I, who came into the meeting having never heard of Adriaan Vlok, was fogging up my camera lens with the humidity from my tears. And, in that moment, Adriaan Vlok asked this man if he could wash his feet to commemorate his request for forgiveness. And the war soldier, wounded by years of guilt and hatred, replied, "only if you'll let me wash yours as well".
And so, before an audience of 100 or more, the former minister of the South African Police and an army veteran who struggled for years with guilt and shame for having to uphold the apartheid regime removed their shoes and took turns washing each other's feet.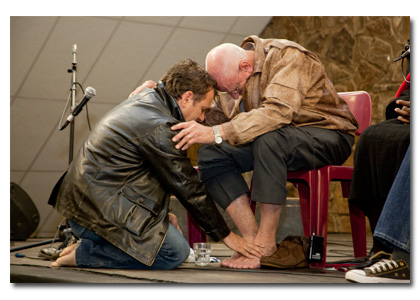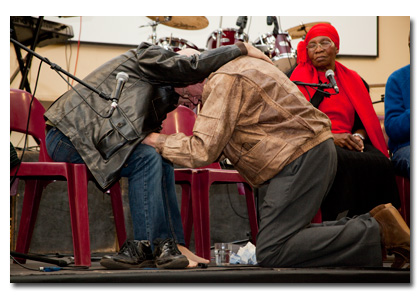 I believe I witnessed a pivotal moment in this country's history. Afterwards, more army veterans confronted Vlok in reconciliation, hugging and crying at the pouring out of a moment that is certain to initiate a healing process across all men who share in that shame.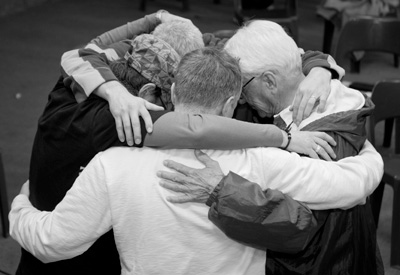 That night, I had several conversations with South African men who shared in the experience, and opened up to me in a beautiful vulnerability to describe their experiences and years of pain and torment they had suffered as a result of their mandatory service in the South African Army. No amount of literature I could have read to educate myself on the affects of apartheid would ever compare to the stories I heard face-to-face with these men (nor could a full written account of them here). They are heartbreaking stories, but today they are stories of reconciliation….of healing…of moving on. I'm so grateful for these new friends who told their story, and I hope they continue to tell it. This history must not be repeated...anywhere.
I am understanding more and more that this is exactly what Amahoro is all about...