A couple of months ago, as I was driving south on Highway 101 in the heart of Santa Barbara, I was drawn to the hills of the front-country above Montecito. Our winter was unusually blessed with ample rain fall, and in the late afternoon light of that day it occurred to me just how green those hills were.
You may remember that Santa Barbara was plagued by a series of disastrous fires within just one year between 2008 and 2009. The July 2008 Gap Fire torched the front-country of Goleta, just north of Santa Barbara, and thankfully left little damage to homes or other structures. But that sigh of relief was cut short when the Tea Fire lit up the hills above Montecito in November 2008, when 200 families lost their homes. Six months later, in May 2009, the city watched in helpless horror as the Jesusita fire consumed the area between the previous two fires, burning an additional 90 homes to the ground and leaving the entire vista of the Santa Barbara hillside lifeless and without color. It was devastating.
The whole city mourned - with a population of under 100,000 everyone knew someone who had lost their home. As a community, we faced the devastation wondering how we would ever recover. The signature, mountainous backdrop of Santa Barbara lay dull, colorless and dead.
On this particular day in late April, however, it wasn't just the green of the hills that attracted my attention, it was the contrast of different colors of green. In the distance were the familiar dense and dark tones of the foothills, but in the foreground was a bright, vibrant, and almost neon-looking green. It stood out from the background, and as an avid hiker, I found myself thinking "I want to go explore there!" The newness of the color and rebirth of the landscape was far more inviting than its familiar background. Suddenly, the front-country I know like the back of my hand is a whole new place to explore.
Thus is the cycle of life. Burn
has
to happen to allow for regrowth...for new opportunity. It is all a part of the dynamism and movement of life, in perfect harmony with the divine. In this epiphany, I began to imagine the regrowth already taking shape in my own life. And, in shifting my focus to the green that is peaking its way up amidst the colorless landscape, I realize just how much I have to be grateful for in all of this. And I'm realizing how much I have learned, how much I have grown, and how many aspects of my life are such a blessing in this time. I have surrendered myself to time, anxiously anticipating the "end" of my grief. But the newness I already recognize inside of me is a reminder of how much I have already overcome. I am reminded that, despite the grief, I remain the same vibrant woman with a unique taste for life I have always been; yet I've never been so aware of those things that make up who I am:
Beautiful.
Confident.
Passionate.
Sensual.
Committed.
Hopeful.
Faithful and Faith-Driven.
Loyal.
Intelligent.
Funny.
Charismatic.
Joyful.
Moved.
Intentional.
Deep.
These
are the things that define me. Not my job, not my house, not my finances or any of my stuff. And, definitely not my grief, which happens to be a by-product of my intention and ability to love freely and deeply.
Without the burn I never would have had the space to acknowledge these things. How many more truths are there to uncover in this space, separated from comfort and monotony and false security?
Summer is here, and restoration is in progress in Santa Barbara. Not just the landscape, but residents are beginning to rebuild and reconnect with their home and grounding that has hung in ambiguity and transition for over a year. We are going to get through this. No, we
already have
gotten through this.
With summer comes my once-a-week hikes with a fun group of local folks connected through friends, work, Facebook...you name it. I've lead these hikes for six years now, but this is by far the best year and the most beautiful I have seen these trails. Regrowth. Renewal. It is all an adventure.

Jesusita fire, hours after it sparked at Inspiration Point (a popular hiking destination).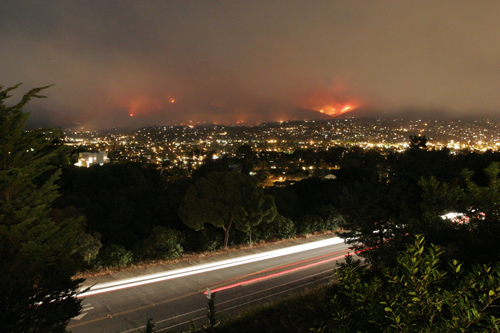 Within days, the Jesusita fire had consumed the foothills immediately above Santa Barbara; nearly 60% of the population was evacuated. The hot spot to the right in this photo is Rattlesnake Canyon, another one of our favorite hiking destinations.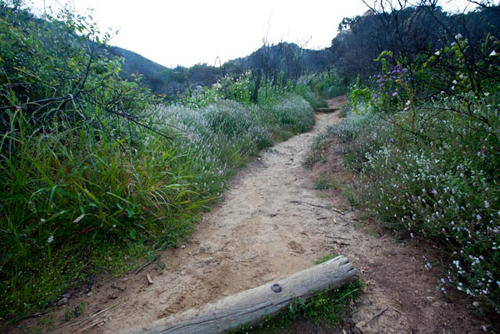 Trail to Inspiration Point, May 2010.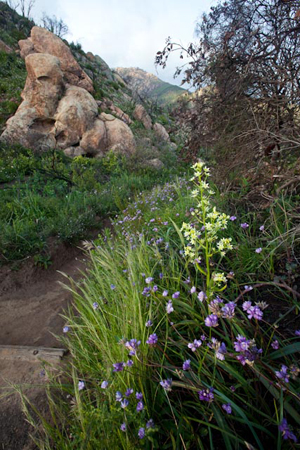 A beautiful display of flowers near Inspiration Point.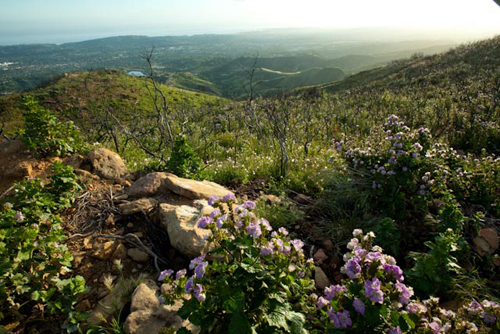 View from Inspiration Point, close to ground zero for the Jesusita Fire. Two years ago there was so much thick chaparral you had to stand on your tippy toes to really get a glimpse of the view. This is by far the most beautiful trip I've taken up to Inspiration Point!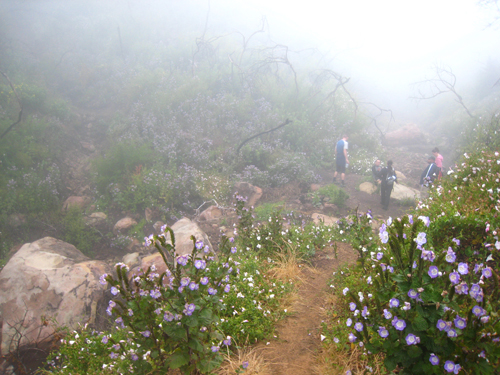 Hiking Cold Springs, West Fork trail in the fog, May 2010. More flowers, more adventure!
I look at this landscape, rejuvinated and reminded of the inherent goodness of my journey. Just think...had I not been willing to face the discomfort of the loss I've experienced in the last year, I would have missed out on all these flowers. To everything, there is a season and a purpose. I love that exploring Santa Barbara's brand new front country reminds me of that.
Flames and smoke climbed out of every window
And disappeared with everything that you held dear
But you shed not a single tear
For the things that you didn't need
'Cause you knew you were finally free...


~Death Cab for Cutie, Your Heart is an Empty Room