This morning my host, Martin, and driver, Ali, met me at the Mombasa Continental Resort to begin our 2 hour journey (38 kilometers on rough and busy roads) to Kambe. On our way out of town, Martin brought me into a supermarket where we purchased a "food basket" as he called it (though it was a whole lot of food with no basket). After our purchase of rice, sugar, cooking oil, laundry and personal soap, maize flour, and a packet of candy, we drove out of Mombasa and ascended a very bumpy road up to the countryside.
I had applied for this visit back in February, which currently feels like an age ago. There really was no hemming or hawing - no decision to be made. I knew I was going to be in Mombasa and when Drina wrote to me last fall and mentioned her visit to an aunt in Mombasa there was no doubt that my presence here was no coincidence. I can think back now to when the representative from
Compassion International
came into our church and laid out about a hundred child sponsorship cards on the table from all over the world. I felt moved to become a sponsor, and I remember studying those cards one by one trying to figure out how one decides between all those children. But Drina stood out for me, inexplicably. As I skimmed the cards on the table my eyes kept falling back on her, so I picked it up and filled out the form and the rest is history.
I had no idea at that point, two years ago now, the journey I would find myself on today. How could I know that I would be called to quit my job a year later and my heart would be drawn to Africa? I never could have guessed that my call to Africa would land me at
Amahoro Africa
in South Africa in 2009, without even fully understanding what this gathering of friends, African leaders, and lovers of the mercy and justice of Jesus was all about. I didn't know, at the time I chose Drina, that I would find myself with a permanent attachment to Africa, and that the Amahoro Gathering would be held just 38 Kilometers from her home in 2010.
Can you listen to this and deny that something divine is in motion here?
So today, I arrived at a small church and school house in Kambe, where I was met by a littlegirl in a beautiful flowered dress that I recognized as 9-year old Drina. The paperwork I received from the field office warned about proper etiquette in terms of showing affection, but I instantly forgot when I saw her, drawing her near to me in a big hug (much to her surprise, I might add). She was accompanied by her mother in a turquoise dress, both ladies smiling and welcoming as they walked me into the office. There, I was met by the Pastor and the team that is leading the project in Kambe - the accountant, health worker, social worker, and so on. For the first hour they shared with me the specifics of the project - where my money has been going and the affect they've had on that particular community in terms of health, education, spiritual encouragement, and economic responsibility. This was, perhaps, a room full of some of the most passionate (and compassionate) people I have ever met.
After the business introduction to the project, we drove to Drina's home (where she lives with her Mother and sister). Drina carried my camera bag into her home (she wanted to help me), and walked me through the rooms of the temporary structure made of dried mud and wooden scaffolding. A chicken meandered by as I photographed the family in Drina and Sharon's bedroom, and I stepped awkardly on the rough, dirt floors of that 3 bedroom (probably 300 square feet) structure. Afterwards, Drina and Sharon took me outside to show me the goat my birthday money had purchased for Drina last year. I gave him a good pat on the head, amazed that I was experiencing first hand the fruits of a measly $25 check.
Drina and I talked - she told me how she likes to play and that her favorite game is football (soccer). She enjoys English as her favorite subject in school, and her marks are fairly good (she is in the 80th percentile). She is very shy, and when I asked her a question directly she would answer in a very low whisper that I never was able to discern. Soon, we discovered she was much more willing to answer in her native tongue of Swahili and the two of us enjoyed more conversation via the translation of my host Martin.
Mostly, though, Drina held on to my camera. I had set it up for her to use as simply as possible, and she snapped away hundreds of photographs while we met in her home. When she grows up she wants to be a police woman or a doctor...but now we all suspect she may want to be a journalist! She was very proud of her photographs, and so smart! She figured out how to play them back and would occasionally stop photographing to run me through the latest "slide show" of her work.
I am not one of those people who is good with words. I never know what to say, especially to someone who lives in such a completely different world than me. But, what I can do, is share in the international language of passion. My passion is photography...it's storytelling. I had two cameras there, and Drina and I bonded over our individual photographic perspectives of our story together. It was moving.
I brought many gifts (probably too many), and one was a stack of photographs I had put together of close family and friends. I was amazed by her memory (and that of her sister's). As I began to lay out the photographs, the girls exclaimed together "Kako!" when they saw the photograph of my aunt Kako. Then, they saw the picture of my mom and brother and giggled as they said "Casey", making it evident that they felt a kinship not only with me but with my family. If there is anything I've learned it is I need to send more photos! There are so many important people in my life, and they were happy today to meet the rest of the family (Dad, Jolene, Linda, Bart, the cousins and kids), as well as some close friends (Kelly, Jen, and the Santa Barbara crew on our recent snowshoeing trip in Mammoth). In return, I was given a gift of beautiful fabrics and a hand-woven shopping basket, which I will cherish always! I also have come back to my hotel with two coconuts and a bag of sweet oranges that I am so disappointed cannot accompany me on my journey back to the U.S. tomorrow.
As their mother shared photographs with me of Drina and Sharon as children, Drina undid my braid and she and her sister played with my hair. We ate together in that home, a meal of rice and chicken in coconut milk (delicious, by the way!) Every once in a while I would catch Drina looking at me, and every once in a while she would catch me looking at her. We were bonded by our curiosity of each other.
I was sad our time together had to come to an end. What could I say to Drina and her family? Could I hug her long enough and hard enough to feel fulfilled in letting her know what a blessing she is to me? How can I love her more? I wanted to stay there with them on their new plot of land. I wanted to help the family build a permanent structure and harvest the maize they had planted. How does anyone just walk away from that? And, let me tell you, though there is clearly poverty, I am talking about how one walks away from the hope in the midst of that poverty. I can't see past the shy smile on Drina's face, the way their mother adores her children and wants only the best, and how they are supported in a community where they are loved by so many. I get to love them, too...it just seems unfair its from so far away!
As a child, my family sponsored a little boy in Ethiopia named Vincent. I remember writing Vincent letters and passing his photograph in the hallway of our home. Somehow, though, I was disconnected from Vincent. The same way I've been disconnected from Drina these last two years. But Drina is real, Vincent is real (I wonder where Vincent is these days). Drina will always, always hold a special place in my heart. I will carry her smile, gentle kindness, and somewhat silly demeanor with me always.
What a touching, yet surreal experience...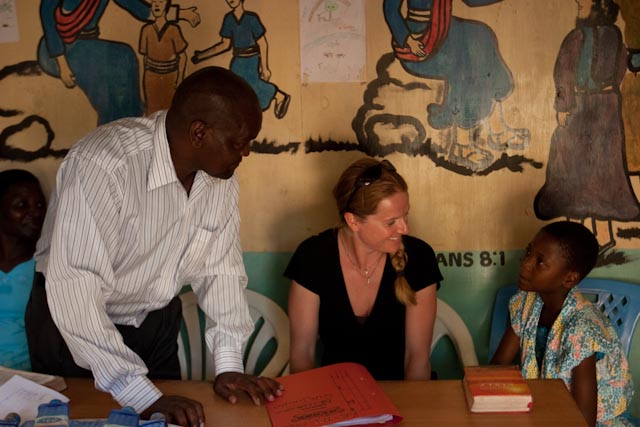 Looking at Drina's file with the social worker.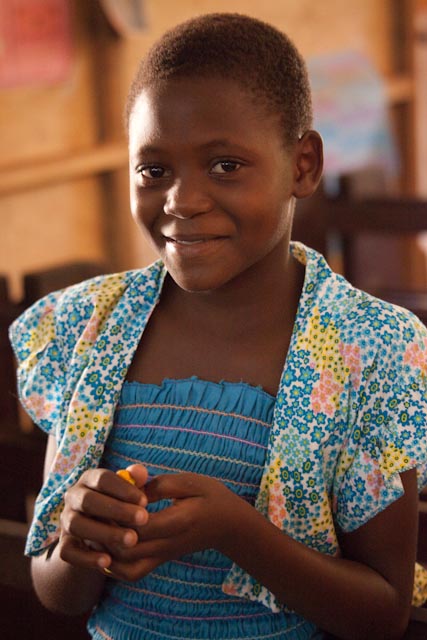 Lovely Drina.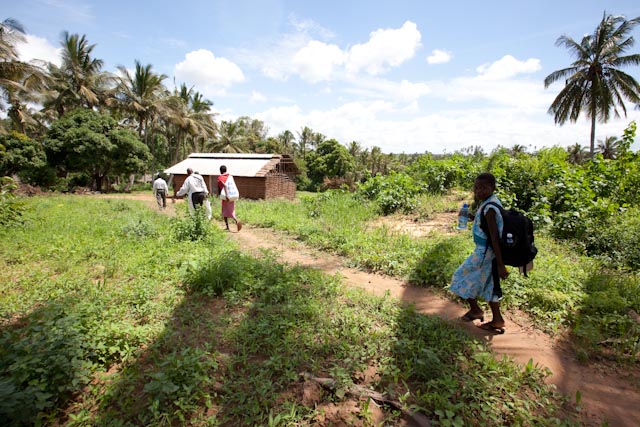 On the path to her house.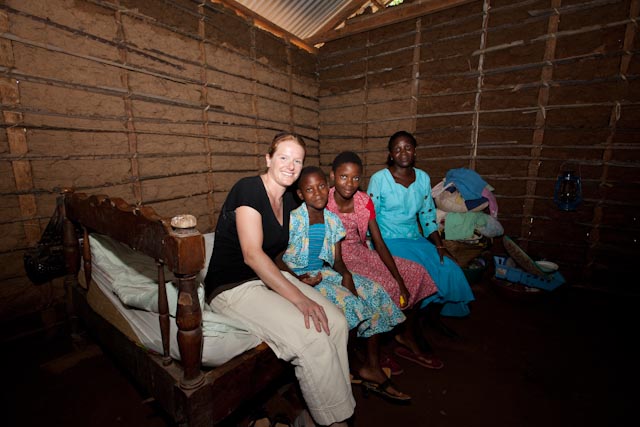 The family in the room Drina shares with her sister Sharon.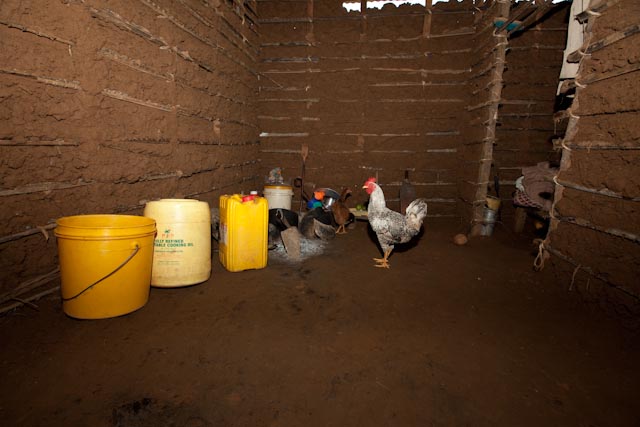 Drina's Kitchen.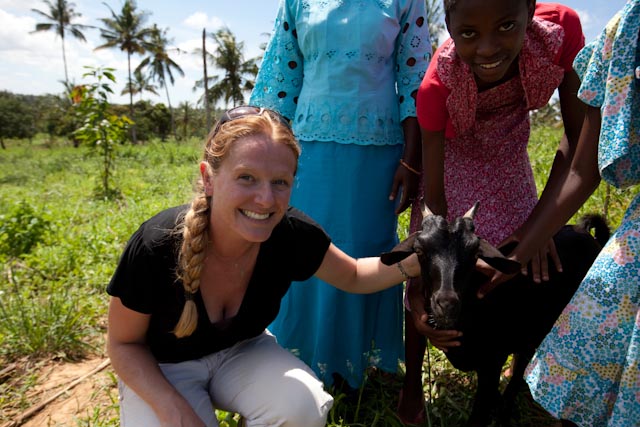 My birthday goat!
One of Drina's photos. Pretty good if you ask me!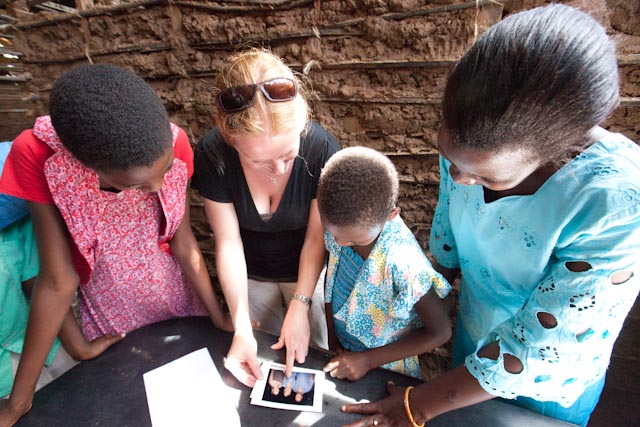 Looking at photos of my family and friends.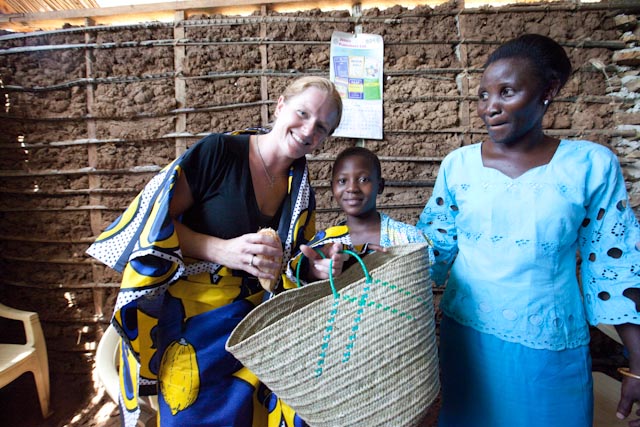 My gifts.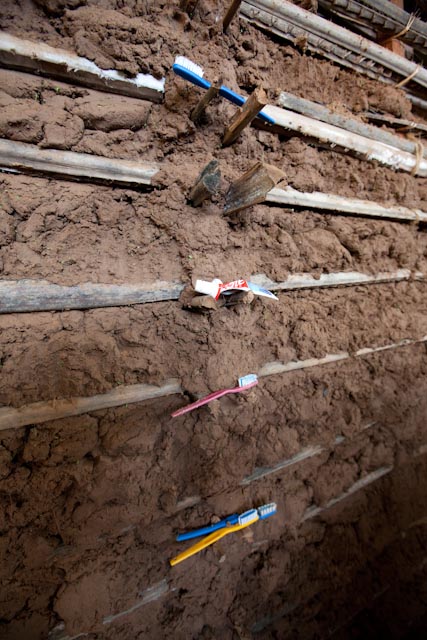 Toothbrush holder (there is no bathroom and no sink).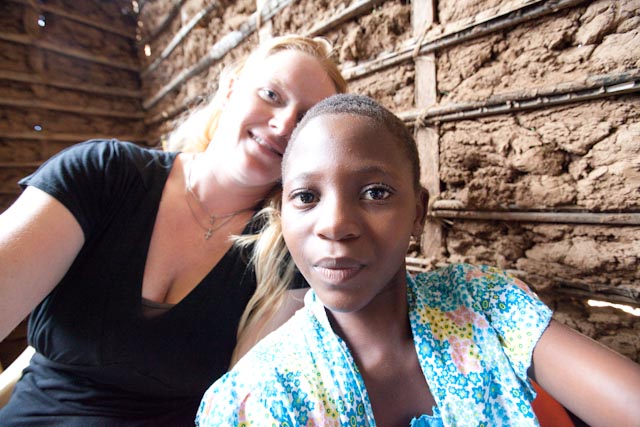 Drina and I, as photographed by Drina.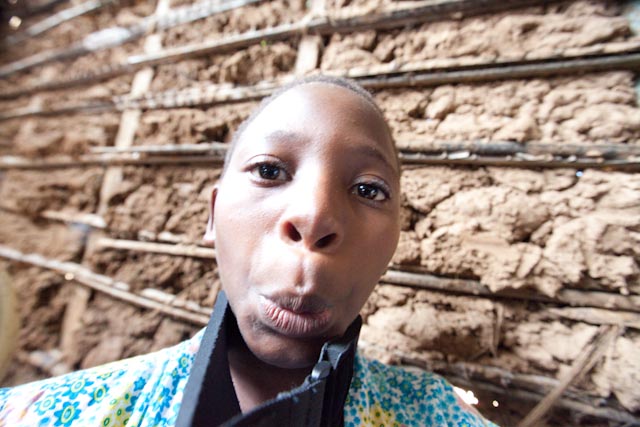 Self Portrait.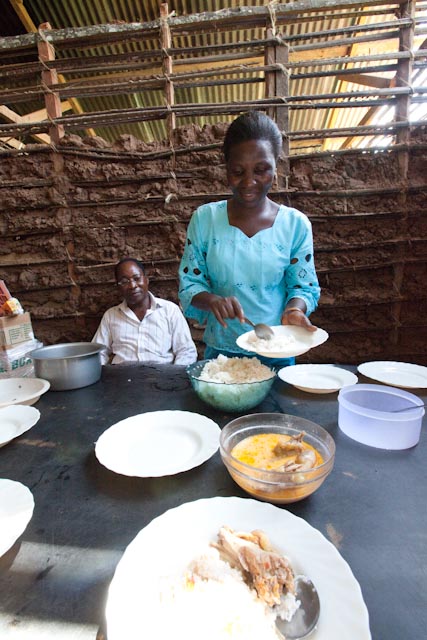 Lunch as prepared by Mama (I didn't write down her name, but I'll get it. Sorry Mama!!).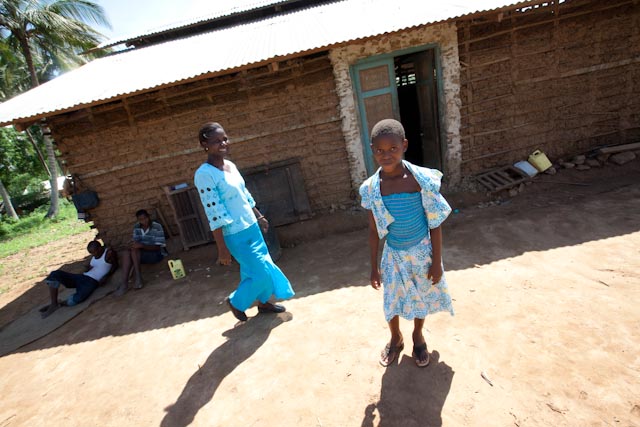 Drina in front of her home.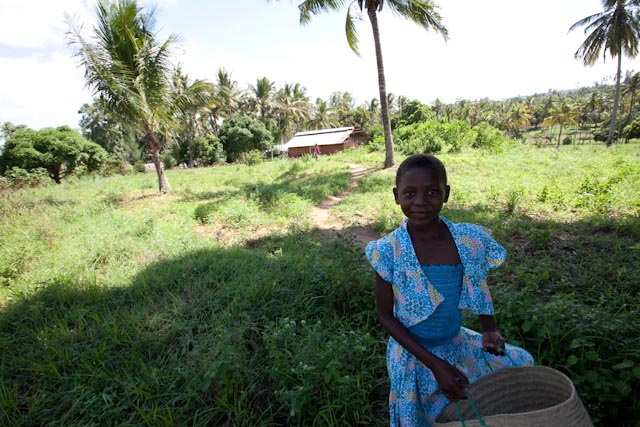 On our way back to the car.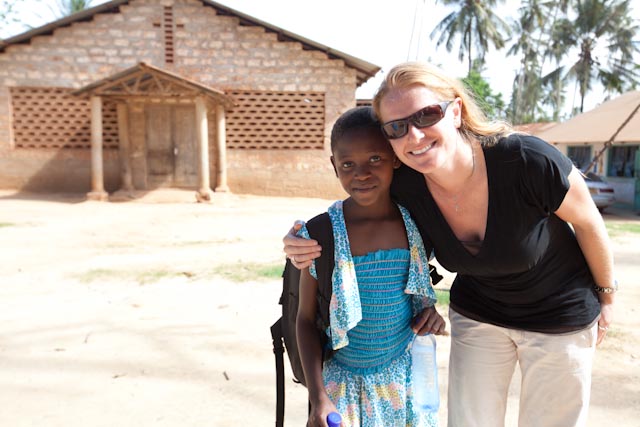 Drina and I at our final goodbye.