On Sunday, I shared an 8-hour, nail biting bus trip from Amboseli National Park back to Mombasa in Kenya with a new friend, Brian McLaren. Brian is a pastor and author of many books that are controversial in many Christian communities. Most notably, in my head, he is the author of the book "Everything Must Change", which subsequently changed everything for me (no pun intended).
We were part of a group of seven other participants from the Amahoro Gathering who had gone on Safari as an extension of the conversation around Christ, Community and Creation. All but Brian and I had flights to catch from Mombasa to Nairobi on Sunday, and when those in the group realized they were so close to Nairobi already they made arrangements to skip the 8 hour drive back to Mombasa and share a bus that would take them directly to the Nairobi airport.
I don't believe that the trip back to Mombasa with just Brian and I was by coincidence. Here was someone I deeply admire for helping me come to a perception of Jesus that is more aligned with my interpretation of a benevolent and just God. Yet, I've been somewhat intimidated by him, failing completely to introduce myself or talk to him in South Africa last year. I certainly wouldn't dare to discuss theology or ask questions in front of the pastors, bible scholars, and theologians dominating the Amahoro Gathering. But, with just the two of us and 8 hours on the road, I felt more than comfortable asking "stupid" questions.
Brian said a lot of thought-provoking and interesting things. But I am still processing and deeply moved by his idea that God's perfectionism isn't ecstatic, it is dynamic. I love this concept in that it leaves plenty of room to grow and continually discover. Even as I write this I am realizing its alignment with my suspicion that absolute truth is actually nonexistent. Just as every day new species are documented on land and in the sea, there are infinite truths yet to be unfolded in mankind's journey on Earth. I think this is a concept even an atheist can relate to. Who can deny that each day there is something new to be experienced, discovered, and learned?
For a perfectionist, I cannot tell you how freeing this concept of dynamism is. It completely changes my perception of what it means to be perfect. It means perfection is not something to be achieved, but is happening around me every day...iteratively...dynamically. It means I can let go of the concept of euphoria - the expectation that I would reach ecstatic contentment once everything is "perfect". God's world is ever-changing, ever-moving, and ever-growing. To expect absolute operates against the organic and dynamic nature of creation.
My only question, then, is why our little human brains are programmed to think in terms of finite. Why do we seek out euphoria (ecstasy) instead of receiving the peace presently available to us in all circumstances? This mystery of the human psyche is why advertising is so effective. "Buy this and your joy will be complete." We want to be in that rocking chair - in flannel pajamas, next to a roaring fire on a snowy day, our golden retriever napping at our feet - because, in that image, we've reached ecstatic perfection. If I could only find myself in that scene, my troubles would melt away. My circumstances, my history, my identity - none of these things matter in those flannel pajamas. How can we believe such a lie? I cannot even begin to comprehend the way we are wired.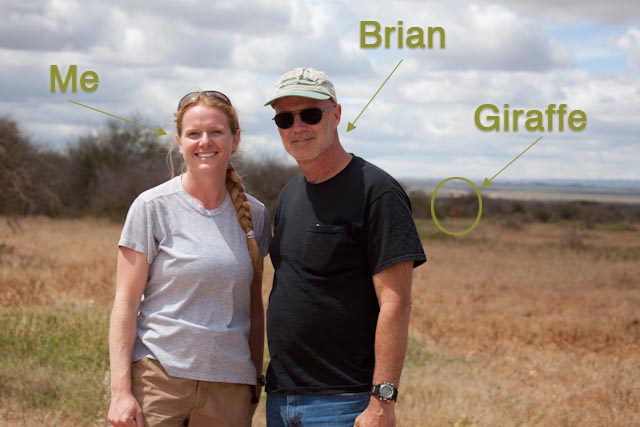 A little fun on our way out of Amboseli National Park.
--
Monday was an incredible day. After a dive, a drink at the swim-up bar, snorkeling, and conversation with more friends I found myself laying in the sun watching the low clouds roll over the Indian Ocean. In that moment, I realized I had never felt so close to God. I have a Facebook friend, Jed, who sometimes updates his status with "Gone soul searching...in a place so close to God you can almost look him in the eyes". That's what it felt like. I found "euphoria" in the form of gentle peace. It was held in balance with my joy and grief (which has continued to be present during this trip). But, in that moment, I was overcome with the freedom to relinquish all control over my circumstances.
God is at work. Always moving, always shaping, always with purpose. He is working in my life, still sculpting and carefully examining and using every imperfection in my clay. And he is at work in the lives of the people I love and mourn for...in a way that I cannot even begin to understand but can only be positive of the movement and shaping in those lives as well. He has a plan and a purpose laid out for everyone, and while I may or may not get to be a part of them, I find great comfort in knowing this when I take the time to fully acknowledge and consider it.
And I am positive God is working on the reconciliation, healing, and closure I so desperately am seeking in this time of transition. I only find weakness when I attempt to guess or make assumptions about what that looks like. I get distracted by needing to know, and become overwhelmed with the onset of that obsession. But, I am learning to hold all things in peaceful ambiguity, absent of the expectation of "needing" to know. But, to be honest, there are only brief moments when I can comfortably hang in that balance. The rest of the time I am aware of my weakness in humanity. It gets even more complicated when I realize the importance of receiving grace when I become aware of my weaknesses.
What a blessing Kenya has been to me -- so many gifts from God, even in the midst of such turbulent emotions. I have held grief with joy, tears with laughter, and resentment with forgiveness in such a dynamic dance these last 10 days. I am living out an awareness of "...the fullness of him who fills everything in every way" (Ephesians 1:23). The dynamism of life...a pot continuously sculpted but never fired...a work made perfect in its constant incompleteness.
Though my trip to Kenya is drawing to a close, this journey is far from over. God grant me the strength and wisdom to receive peace in ambiguity and to be intentional and present in all circumstances.